What is a Design Portfolio?
A design portfolio is the visual representation of all you have accomplished so far and symbolizes what you hope to achieve in the future. A design portfolio should be used to showcase your best work that you can share to potential employers, clients or anyone who is interested.
Digital Portfolios
By looking at your portfolio, a prospective employer should be able to evaluate your ideas, typography, visualization, composition, creativity, and tech skills. A quick look at your work tells someone whether you are qualified or of interest.
Digital Portfolios are relatively easy to set up, and allows students to have quick and easy access to their work without the need of carrying around a physical portfolio. As useful as digital portfolios are, it's important to not rely on it. Internet issues and computer problems are real; don't let that stop you from showing off your work.
Considerations
Have you approached your portfolio as a design problem?
Is your digital presentation user friendly? Did you test it?
Where will you post your portfolio online?
Do you have 3D work that needs to be photographed?
Will your portfolio be a one-of-a-kind bound book?
Will you have more than one presentation?
Are your labels or descriptions clear and well written?
Does your portfolio best showcase all the kinds of work?
Build it Based on the Role
First, figure out what your current career goal is. Would you want to focus on a specific area of graphic design, or work in various fields of design? Whether it be User Experience, Advertising, Marketing, or Content Creation, your portfolio should reflect your interests and serve as a guide for what jobs you would like to have.
What kind of job would you like to have, and where do you want to work?
Would you like to design brand identities? Packages? Websites? Advertising?
Or are you more interested in designing a variety of projects?
Organization
Your portfolio should provide a unique experience for the viewer. You should start off strong, and most importantly, end strong to leave them with a lasting impression.
Best piece first
Third strongest in the middle
Next-to-best piece last
No weak solutions anywhere
Project Descriptions
A project description showcases your ability to explain a design concept, strategy, or goal, an insight into the brand, entity or audience, and designate an audience. Descriptions should be one to two sentences long, incorporating the previously mentioned items and need to accompany each project.
Images Check List:
High quality / high resolution
Clear image of work, crop out any distractions
Edited in Photoshop or Lightroom
Tips
Be sure to include some in-progress pictures of your projects, it will help to explain and show off your thoughts and background of the project.
If you do not like a project, do not include it in your portfolio. Present projects that you believe would maintain the viewers' interest.
Keep your layout clutter-free, simple, and easy to navigate.
Layout Examples
Here are some examples of layouts you could use when showing off your work. The layout usually includes:
Project Title
A description about the project
Page Number
Various High Quality Images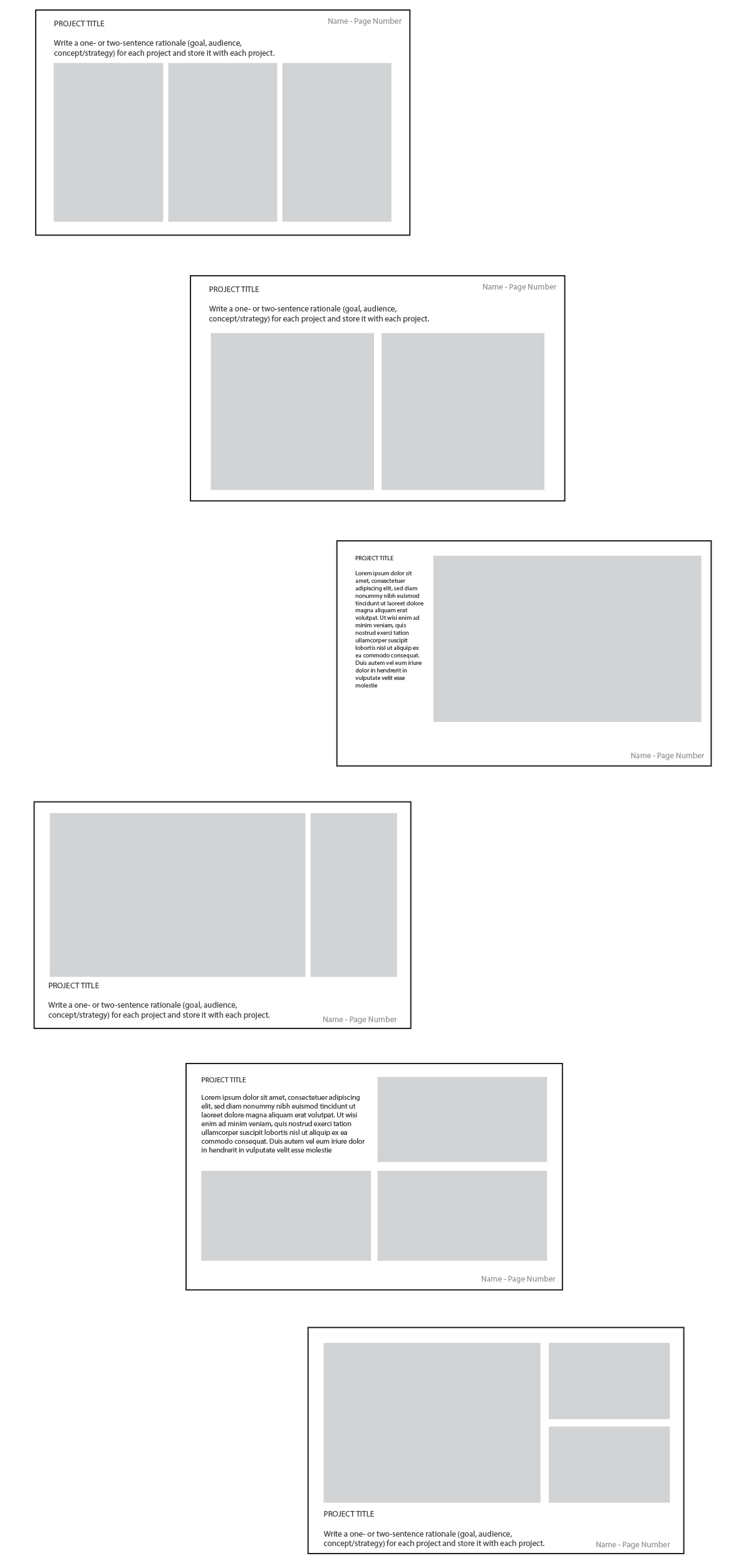 Sign up for Emerging Professionals Workshop 2023
Resources