Peter Good, a prominent graphic designer, illustrator, and fine artist, passed away on May 2, 2023. He is best known for his iconic Hartford Whalers logo, revered and fondly remembered by fans worldwide.
Good partnered with his wife, Jan Cummings, a fine artist in her own right, and founded Cummings & Good – a multi-disciplined practice and studio in Chester, CT. For over 50 years they developed deep and lasting relationships with a multitude of clients who sought their unique approach to realizing ideas.
It was this approach to problem solving which drew clients from the corporate and the non-profit worlds alike. United Technologies, Wadsworth Atheneum, Champion Papers, Connecticut Commission on Culture and Tourism, the Mark Twain House, Special Olympics to name but a few of those lucky enough to work with them.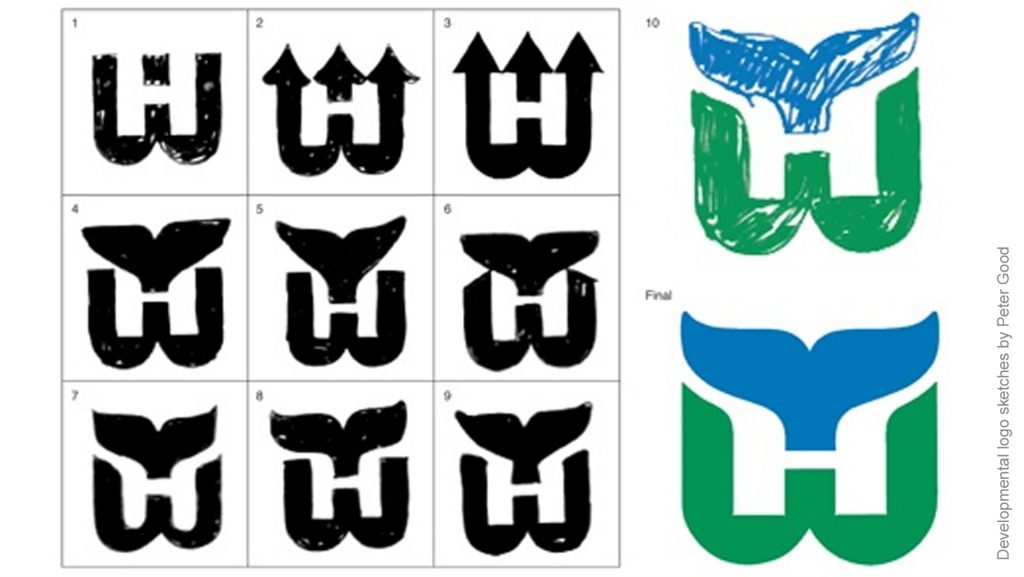 The cover graphic we've selected for this post exemplifies Peter's personality and method of communicating creatively with his peers and business contacts… In the days before email, facsimile (fax) was the 'go to' for sending communications.
Fellow designer and friend Theo Bertz, held onto this fax all those years ago, and today shares it with us.
Peter Good served on the AIGA CT Chapter's board of directors for years. He earned an AIGA Fellow Award in 2009 for raising the standards of excellence within the design community. 
Prior to the establishment of AIGA, Peter served as a founding member of the CADC and was inducted into the CADC Hall of Fame in its first induction ceremony in 1995.
Good's work was published in design periodicals all over the world, and well recognized by the major graphic design organizations we know and love. Peter Good's outstanding work made it to permanent collections both here and abroad. (Cooper-Hewitt National Design Museum, the Library of Congress, The Museum fur Kunst und Gerwerbe, Hamburg, the Neue Sammlung Museum Munich, and the Museum of Modern Art, Toyama, Japan)
A Zip06.com 'Person of the Week' article from December of 2009 quoted Good, "Graphic design, Peter explains, is making connections between disparate things."
"When I'm designing and thinking about a problem, I'm thinking about what it means to people; I'm open to human traits, philosophy, humor, popular culture, and the idiosyncrasies of language and there are many more connections one could make."
Peter Good has been described as a mentor and creative inspiration to many. Throughout his career, Peter shared his talent generously and did pro bono work constantly. In retirement, he built on that generosity by volunteering designs for several local organizations and clubs within his community.
Peter Good's obituary speaks to his "kindness, generosity and support for everyone who got to know him."
Since his passing, many of Peter's closest contemporaries state that they are still slowly getting used to the world without him.