On Tuesday, December 1st, we held the first event of our new #designforgood series, THE CREATIVE IMPACT SERIES. The Social Entrepreneurship installment brought together three of Connecticut's social impact leaders—Onyeka Obiocha of A Happy Life, Constanza Gowen-Segovia of co:lab, and Suzanne McKenzie of Able Made—to discuss the challenges, risks, and rewards of building a brand for good.
Some of the key takeaways from the panel discussion:
Vision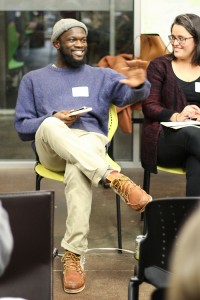 Ony said that, while he intends to do everything he can to ensure his business evolves, he looks forward to the day when a high school student can look at his model and say, "I can improve on that." If done well, the foundation one lays in social enterprise will inspire those who come after to continually raise the bar.
Value
You deserve to get paid for your work, even when you want to work for good. It's natural to feel guilty about "profiting" off of your work for a cause because you know all of the ways in which additional funding could advance it. However, you need to care for yourself to help you more effectively care for others, especially if you want your involvement to be sustainable for the long-term.
Flexibility
Constanza discussed a time when she and her peers spent months working on visuals for potable water awareness in rural India. When her team arrived on site, "it didn't matter how pretty the posters were," because other elements needed to be in place before the campaign could be successful. It was easy to regard all of their work as time wasted, but the dialogue that emerged around the more urgent needs of the locals drew attention to the places it was most needed. The reality is that time invested into a worthwhile cause will make ripples in some way, even when the end result diverges from your original vision.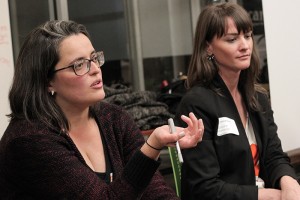 Funding
While from time to time social enterprise hopefuls get lucky with angel investors, a lot of the opportunities you'll find come from networking with other passionate people. Whether you want to collaborate with like-minded business owners or find a social enterprise mentor, seeking out chances to interact with your community and seizing them is crucial. The people you most look up to were once in your shoes, and many will be happy to discuss your vision (and ways they can help out) with you.
Taking the Plunge
Ony explained that "the stars will never be perfectly aligned" in a way that lets you know it's totally safe to make the jump from your day job to full-time social enterprise work. When you believe in your cause, you have to decide to take a leap of faith at some point. Suzanne discussed how she found the transition to social enterprise less jarring than her previous shift from agency work to self-employment because of the clarity she had about how she wanted her business to work. Making the switch sounds scarier than it actually is, and the rewards of knowing your impact outweigh the anxiety.
Check out photos from the event below, and don't miss our next CREATIVE IMPACT SERIES event in April, when 2014 AIGA Medalist, Cheryl Heller, sits down with us to talk about how she came about developing the Ideas That Matter program with Sappi, and the M.F.A. program in Design for Social Innovation at the School of Visual Arts. We can't wait and hope to see you there. Special thanks to our hosts, reSET, and our sponsor, Sappi.