Reserve your spot for "InsideOut 2015: The Conference for In-House Creatives," an afternoon of insight and inspiration featuring some of the most dynamic and influential in-house creative leaders, including:
Alex Center, Lead Designer


The Coca-Cola Company

Danny Costa, Creative Director


Vestis Retail Group (Eastern Mountain Sports/Bob's Stores)

Stephani Finks, Design Director


Harvard Business Review Group

Ralph Frisina, Creative Director/Partner


Winstanley Partners

Dian Holton, Deputy Art Director


AARP Media

Krista McDonald, Art Director


Lovesac

Gregory Pizzi, Senior Global Graphics Manager
Stanley Black & Decker
AND...
John Dankosky, News Director of WNPR and Host of Where We Live
Gain insight into how high-performing in-house creatives and teams thrive and still keep their edge. Customize your experience through a series of topical breakout sessions with individual speakers, then engage through an interactive panel discussion about in-house trends, challenges, and opportunities. And, enjoy networking opportunities throughout the day, including the closing cocktail reception.

AIGA Members: $89
Non-Members: $109
Students: $75
Company/Group (3 or more): $80 each*
*please email president@connecticut.aiga.org to arrange group reservations.
SPEAKER BIOS
Alex Center, Lead Designer, The Coca-Cola Company
Alex Center is a Brooklyn-based designer who currently works for the global beverage leader, The Coca-Cola Company. He grew up in the town of Oceanside NY, home to the world's second Nathan's Famous Hot Dogs. He once worked for the New York Knicks as a designer where he worked with both his childhood idol, John Starks and his nemesis Isiah Thomas. He has spent most of his professional hours being creative on behalf of the beverage brand vitaminwater. Over the years, he has designed packaging that has been in hands across the globe, created breakthrough marketing campaigns, launched innovative new products and once met rapper 50 Cent who told him "You must think you're pretty special." He got nervous and instantly started sweating. In 2011, Alex was named one of the 200 Best Packaging Designers by Luerzers Archive. In 2012, he started sharing his story with speaking engagements at The Dieline Forum, HOW Design Live and as a guest on Debbie Millman's famous Design Matters podcast. In 2014, Alex was named a Person To Watch by GDUSA Magazine joining the likes of legendary past recipients like Milton Glaser, Primo Angeli, George Lois and Saul Bass. Today, he leads the design vision and strategy for brands at Coca-Cola that include vitaminwater, smartwater & Powerade. In his personal time he enjoys rooting for New York sports teams that wear orange/blue, doing improv at the UCB Theatre and searching for the freshest prosciutto in New York City.
 Danny Costa, Creative Director, Vestis Retail Group
(Eastern Mountain Sports/Bob's Stores)
Danny Costa is an inventive, creative, market-savvy professional with a passion for new media and experience driving 360˚ marketing initiatives from concept to execution. With a strong track record of developing and implementing brand, product and business campaigns, he is a contagiously positive driving force that unifies and inspires a diverse team of creative professionals in multi-brand and omni-channel environments. Danny's greatest passion is helping others to succeed and he believes when you surround
 yourself with bright, enthusiastic talent, there is no limit to the potential and the ability of the team to overcome all creative challenges. His creativity, leadership and relentless desire to push design to the next level makes Danny and his team a true force of nature within their organization.
Stephani Finks, Design Director, Harvard Business Review Group, Press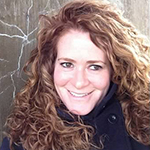 Stephani leads the creative direction of the tomes of the world's preeminent business minds. Jon Stewart recently poked fun at one of her book jacket designs on "The Daily Show" (a highlight of her career). Prior to this, she was the design director of The Pohly Company, a custom publisher. She designed magazines for clients including Sotheby's, Whole Foods, Continental Airlines and Fidelity. Some of these magazines no longer exist, but such is the fate of print (Stephani is not personally responsible for their demise). Stephani was an adjunct design professor at Boston University for several years. Her work has been recognized by Apex, Astrid, Galaxy, Mercury, Ozzie, Communication Arts, Print, STEP Inside Design. She has lived in the publishing meccas of New York, San Francisco and Boston and, in her free time, travels the world, often on foot, with hiking poles. She is an Instagram purist posting only photos taken with her iPhone.
Ralph Frisina, Creative Director/Partner, Winstanley Partners
Ralph Frisina joined Winstanley Partners as Art Director in 1988 and has since garnered more than 80 advertising awards in the areas of print, broadcast, packaging, and environmental design. He studied design
and illustration at the Art Institute of Pittsburgh and the School of Visual Arts, Milton Glaser's Workshop, in New York, N.Y. Frisina holds two patents for unique three-dimensional product designs currently in use worldwide, and has seen his work featured on several national publications, including Print magazine.
Dian Holton, Deputy Art Director, AARP Media
Dian is a deputy art director at AARP Media and a part-time visual/brand associate for GAP Inc. Her background includes publishing (print/digital), integrated marketing, branding, retail installation and styling. Prior to AARP she was an art director at USA TODAY/USA WEEKEND. She currently serves on the AIGA Washington DC chapter board as the Mentoring and Design Continuum Fund director and on AIGA's Diversity and Inclusion Task Force.
Krista McDonald, Art Director, LoveSac
Krista McDonald is an in-house Art Director for Lovesac. Based in Stamford, CT, Lovesac is a unique furniture store which sells modular couches and foam-filled Sacs (Not what you think! go look it up at lovesac.com). Before Lovesac she started her design career in Boston at Pearson Publishing creating the first print-to-digital science education book. Then on to NYC where she freelanced with various Design,
PR, and Media companies. In the midst of her freelancing career she discovered her desire to work more in-depth with a company instead of the crazy (and stressful) fly-by design experience. With that, she found Lovesac and has been working on promoting and branding one of the fastest growing furniture stores in America. While her job is a big part of her life, she also loves spending time with her husband and her audacious three year old son, at home in Norwalk, CT.
Gregory Pizzi, Senior Global Graphics Manager, Stanley Black & Decker
Gregory Pizzi is the Senior Global Graphics Manager for Stanley Black & Decker; Hand Tools & Storage. Greg currently leads the US and Taiwan based graphic design teams with a focus on product packaging and commercialization, for the complete line of the Stanley Black & Decker brands including STANLEY and DEWALT. Prior in-house design experience includes a six year stint at Sennheiser, in which he was responsible for leading creative development for internal marketing and North American based marketing campaigns. Greg's creative journey began in 1984 when his father brought home a 512k "Fat Mac" loaded with MacWord and MacPaint. Since then, Greg has worked as a furniture designer, motion graphics artist, and professional photographer.
MODERATOR BIO
John Dankosky, News Director of WNPR and Host of Where We Live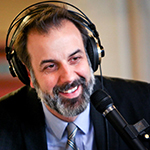 Since coming to Connecticut in 1994, John has helped to build WNPR's award-winning newsroom – cultivating one of the most talented news staffs in public radio. He has reported for NPR on politics, economic redevelopment, drug crime, assisted suicide, tribal recognition, immigration and a surprising number of stories about sports. He's also worked as an editor at NPR in Washington, and is the regular fill-in host for the national program Science Friday in New York.
John has won national and local awards for his reporting, and Where We Live has twice been honored by PRNDI as public radio's "Best Call-In" Show. He's also won awards for editing nationally distributed documentaries on care for the chronically ill, the evacuation of Manhattan on 9/11, and the mental health of children.
In 2010, John accepted an appointment as the Robert C. Vance Endowed Chair in Journalism and Mass Communication at Central Connecticut State University, having previously served as an adjunct journalism professor at Quinnipiac University. He has hosted countless political debates, along with live panel discussions for The Connecticut Forum, the Mark Twain House and Museum and The Harriet Beecher Stowe Center.
John is a native of Pittsburgh who tells anyone he meets about the Steelers, the Pirates, the Penguins, The Andy Warhol Museum and Primanti Brothers sandwiches. He lives in Winsted with his wife Jennifer, and cat, Dirk.
InsideOut 2015 CONTENT SCHEDULE
1:30 PM — 2:00 PM Registration
2:15 PM — 2:45 PM Welcome & Opening Remarks
Kim Barker-Craven, President AIGA Connecticut
Dontrese Brown, AIGA CT Membership & Engagement Director
Capital One, Group Creative Director, Bank
2:50PM — 3:40 PM Round 1 Breakout Sessions
The Transformative Power of Mentoring
Dian Holton, Deputy Art Director, AARP Media
Just as life coaches can help us own our potential and enrich our lives, mentoring in and outside of the workplace brings rewards for the mentor, the mentee and the work environment as a whole. Learn how to create and structure this dynamic to enrich your work life, and advance your career.
Me, We, Us. Teamwork Makes the Dream Work
Danny Costa, Creative Director, Vestis Retail Group (Eastern Mountain Sports/Bob's Stores)
Exploring the "Me:" How do you make yourself a valuable member of the team? The "We:" It's all about the greater good of team; no personal agendas allowed. And lastly the "Us:" How do you and your team establish a process, and bring respect, credibility, and trust for the value you bring to your organization.
Fostering a Creative Environment Within
Gregory Pizzi, Senior Global Manager - Graphic Design, Stanley/Black&Decker
Whether it's collaborating with an external agency or internal talent and departments, you'll gain valuable insight on how this in-house design team produces top notch creative for a portfolio of global brands, and avoids becoming a "production house."
3:50 PM — 4:40 PM Keynote
Stay Thirsty, Stay Foolish
Alex Center, Lead Designer, The Coca-Cola Company
Lessons learned from creating for Coca Cola's successful vitaminwater brand, and perspective on how to get ahead as an in-house designer whether you work for a small or large organization.
4:50 PM — 5:40 PM Round 2 Breakout Sessions
Exercises in Creativity: How to Keep your Sanity while Designing In-House
Krista McDonald, Art Director, LoveSac
Uncover ways to break that 9-5 mold and stay excited about your work. Just when you think you're lost in "Version Land", mix things up for yourself and your team by implementing new ways to stay fresh and creative.
The Transformative Power of Mentoring
Dian Holton, Deputy Art Director, AARP Media
Just as life coaches can help us own our potential and enrich our lives, mentoring in and outside of the workplace brings rewards for the mentor, the mentee and the work environment as a whole. Learn how to create and structure this dynamic to enrich your work life, and advance your career.
Presentation Really Does Matter
Stephani Finks, Design Director, Harvard Business Review Group, Press
Learn how to pitch – and get approval for – your best creative concepts. Present your work using language and logic that non-creatives understand, can relate to, and get excited about.
5:40 PM — 6:15 PM Refreshments Break
6:15 PM — 7:30 PM Panel Discussion
Moderator
John Dankosky, News Director of WNPR and Host of Where We Live
7:30 PM — 8:30 PM Closing Cocktail Reception
This event made possible through the generous support of our sponsors
- - - - - - - - - - - - - - - - - - - - - - - - - - - - - - - - - - - - - - - - - - - - - - - - - - - - - - - - -

The Creative Group (TCG) specializes in placing a range of highly skilled interactive, design, marketing, advertising and public relations professionals with a variety of firms on a project and full-time basis. More information, including online job-hunting services, candidate portfolios and TCG's blog, can be found at creativegroup.com. For local inquiries, contact the Hartford office at (860) 241-9350.
- - - - - - - - - - - - - - - - - - - - - - - - - - - - - - - - - - - - - - - - - - - - - - - - - - - - - - - - -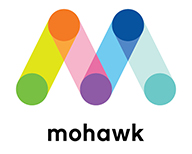 Mohawk is North America's largest privately-owned manufacturer of fine papers and envelopes which are preferred for commercial and digital printing, photo specialties and high-end direct mail.  Mohawk fine papers and envelopes, proudly made in the USA, include the signature brands Mohawk Superfine® and Strathmore®, as well as proprietary treatments Inxwell® and i-Tone®. With a culture of innovation, Mohawk's business model now extends beyond paper manufacturing into new areas of growth, including digital substrates and web-based software platforms, which connect designers and printers to new markets.
As a leader in environmentally and socially responsible business practices, Mohawk was the first U.S. manufacturer of commercial printing papers to match 100% of its electricity with wind power renewable energy credits and the first U.S. premium paper mill to shift toward carbon neutral production. Mohawk's portfolio of recycled papers is certified by Green Seal and the Forest Stewardship Council (FSC).
For more information, please visit www.mohawkconnects.com.
- - - - - - - - - - - - - - - - - - - - - - - - - - - - - - - - - - - - - - - - - - - - - - - - - - - - - - - - -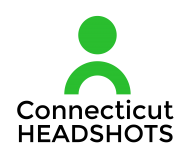 Connecticut Headshots serves busy business executives who wish to project a positive and friendly presence amongst their clients and peers. Our portrait sessions are relaxed, yet professional, resulting in beautiful, natural-looking photographs that can be printed in a variety of ways or used online.
- - - - - - - - - - - - - - - - - - - - - - - - - - - - - - - - - - - - - - - - - - - - - - - - - - - - - - - - -


Firesite Films LLC is a New London based production company specializing in the creation of motion pictures and digital media content. The Firesite team of storytellers, artisans and technicians have the experience to deliver corporate web videos, broadcast documentaries, music videos and feature films. Their client list ranges from such diverse companies as: CVS, UCONN, Pfizer, Staples, Hasbro, Yale New Haven Hospital, Americana Furniture, ECHN, DELTA, Yomega, Harbor Towers, Hydrofera, Saucony, RI Lottery, Grip Nail, Smilow Cancer Center, Town of Chatham, United Illuminating, Care New England, Fell's Point Preservation Society, Maryland Historical Association,Young Studios, Anchor Bay Ent., & Legendary Pictures.
- - - - - - - - - - - - - - - - - - - - - - - - - - - - - - - - - - - - - - - - - - - - - - - - - - - - - - - - - -


For 80 years GHP has been helping companies and organizations around the corner and around the world tell their stories. Partnering with their clients to devise the precise blend of available technologies to produce maximum impact and response from every project. From engraved stationery and invitations to commercial and digital printing, mailing, fulfillment and digital storefront, GHP has what it takes to deliver results.
- - - - - - - - - - - - - - - - - - - - - - - - - - - - - - - - - - - - - - - - - - - - - - - - - - - - - - - - - -



- - - - - - - - - - - - - - - - - - - - - - - - - - - - - - - - - - - - - - - - - - - - - - - - - - - - - - - - - -
AIGA, the professional association for design, is committed to furthering excellence in design as a broadly defined discipline, strategic tool for business and cultural force. AIGA is the place design professionals turn to exchange ideas and information, participate in critical analysis and research and advance education and ethical practice.
For more information, visit AIGA Connecticut
You can also find us on: Facebook/LinkedIn/Twitter