Follow-along live with this Animate demo!
In this interactive workshop, Adobe Professional and author Joseph Labrecque will teach you the basics of Adobe Animate! Join us and learn how to build (pet)tacular HTML5 banner ads. You'll be given the assets and instructions needed to bring your web banner to life. Follow along to create your own and get the chance to interact with an Adobe Animate pro!
The Lesson
What You'll Need
Attendees, please come prepared with the Adobe Animate app installed on your computer. Extra credit if you have a cutout photo of your favorite pet.
Pricing
Earlybird pricing is available now!
Student: $3 ($5)
Membership: $5 ($10)
General Admission: $15 ($20)
Earlybird sale ends 2/26/2021.
If you have been affected by the unprecedented events of this year and would like to attend the event for low- or no-cost contact programming@connecticut.aiga.org for more information.
Joseph Labreque
Fractured Vision Media, LLC
Joseph Labrecque is a creative developer, designer, and educator with nearly two decades of experience creating expressive web, desktop, and mobile solutions. He joined the University of Colorado Boulder College of Media, Communication and Information as Instructor of Technology for the Department of Advertising, Public Relations and Media Design in Autumn 2019. His teaching focuses on creative software, digital workflows, user interaction, and design principles and concepts. Before joining the faculty at CU Boulder, he was associated with the University of Denver as adjunct faculty and as a senior interactive software engineer, user interface developer, and digital media designer.
Labrecque has authored a number of books and video course publications on design and development technologies, tools, and concepts through publishers which include LinkedIn Learning (Lynda.com), Peachpit Press, and Adobe. He has spoken at large design and technology conferences such as Adobe MAX and for a variety of smaller creative communities. He is also the founder of Fractured Vision Media, LLC; a digital media production studio and distribution vehicle for a variety of creative works.
Joseph is an Adobe Education Leader, Adobe Community Professional, and member of Adobe Partners by Design. He holds a bachelor's degree in communication from Worcester State University and a master's degree in digital media studies from the University of Denver.
TWITTER
LINKEDIN
BEHANCE
LINKEDIN LEARNING COURSES
AMAZON AUTHOR PROFILE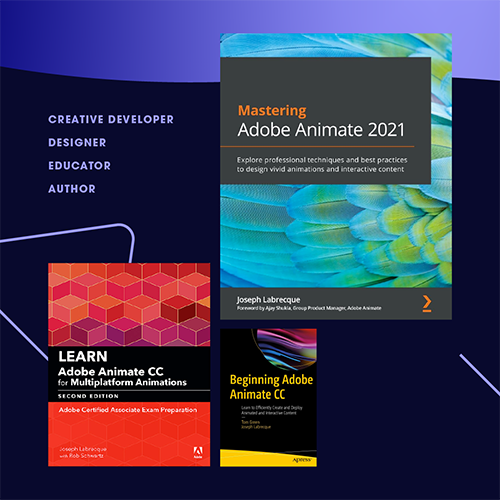 Check out Joseph's book, now available to order!
Stay tuned for more events and workshops that highlight the trades and technology within the creative industry. AIGA CT hopes to partner with designers, developers, vendors, and educators to host virtual workshops that will bring your expertise to the next level.