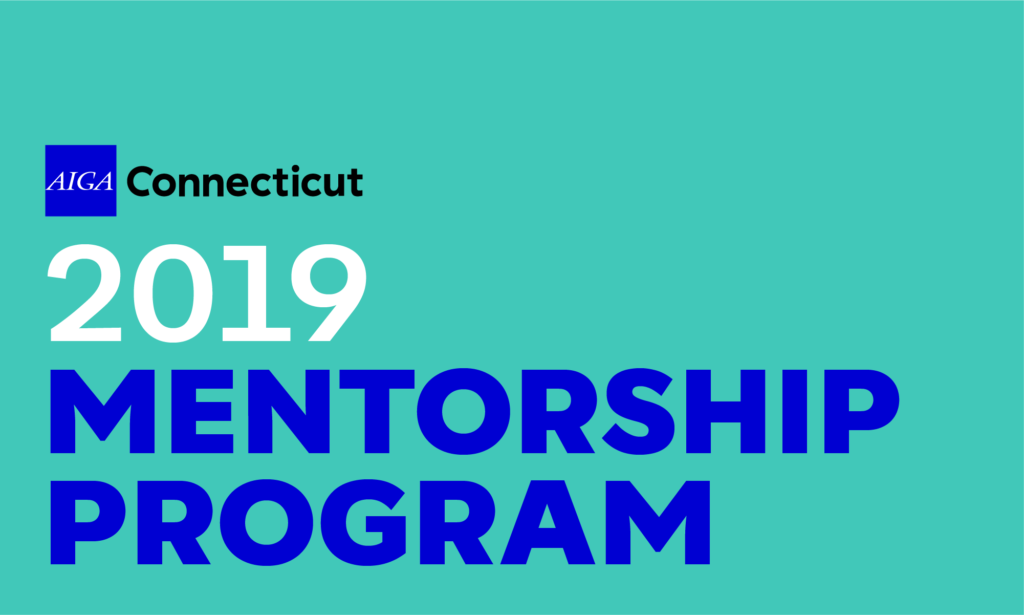 2019 Mentorship Program
AIGA Connecticut's Mentorship Program pairs emerging designers and students with established design professionals to empower individuals and strengthen the bonds in the design community. Through these partnerships we can further develop the talent growing within Connecticut.
How it Works
AIGA Connecticut pairs 10 emerging designers with 10 proven design professionals over a four-month period. It's good, old-fashioned career growth, streamlined. This program is  more than a line-item on a resume and a LinkedIn connection—but a meaningful, insightful partnership. Mentees will identify what they would like to accomplish in this period and work with their mentors to create a plan.
Expectations
Everyone should walk away with useful ideas and tools. AIGA Connecticut will provide guidelines as a starting point, but each mentor/mentee is responsible for setting and achieving goals. These goals should not only be realistic and clear, but tailor-made to fit specific needs, interests, and schedules. We ask that you meet at least once per month in the method of your choice, whether it's via a video call, chats over coffee, or one-on-one office time.
Beyond the Partnering
In addition to the one-on-one time with your mentor/mentee, AIGA Connecticut will host two kick off parties (one in Hartford County and on in Fairfield County, locations TBD) to introduce the participants in the program. This event is mandatory and will encourage dialogue and design growth through group participation to maximize the benefits of the program.
Application Fee & Deadline
Both Members and non-Members are welcome to apply to be Mentees. There is a one-time, non-refundable $15 application fee for mentees who are not current members. If you are interested in becoming a member, sign up here! There is no application fee if you are a current member.
Deadline for 2019 applications is Friday, October 25, 2019. At that time, we will close applications and match mentors with mentees based on the information you provide.
Please apply with the Mentee Application here.
Mentee Qualifications
To be a mentee, you must:
Be an emerging designer who is within two years of graduation—pre- or post—specializing in one of these fields: graphic design, communications, digital/interactive media, or similarly, related program.
Undergrads must be currently enrolled in an AA or BA degree program at a college (community college and up) that is set to be completed within the next 10 months or be currently enrolled in their junior or senior year of college.
Post-grads must have a degree in one of the relevant fields mentioned.
Employment in your field after graduation, even if you are not employed currently, is a plus.
Mentor Qualifications
To be a mentor, you must:
Be either currently employed—with a minimum of five years experience—or retired from the field of graphic design, communications, visual arts, digital/interactive media or related areas.
To maximize resources, we may call on you for additional participation in the program—for example, lead group discussions, present past work, etc.
All applicants must be AIGA members.
Questions?
Please send questions to: education@connecticut.aiga.org