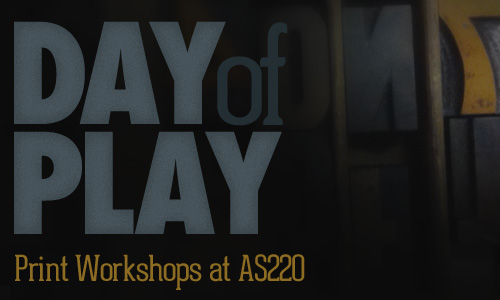 Day of Play  |  Print Workshops at AS220
Saturday, June 8th, 2013
AS220
131 Washington St, Providence, RI 02903
Directions 
On June 8th, join AIGA Connecticut for a road trip to Providence, Rhode Island's AS220 print workshop and enjoy a day of creative exploration, education, and fun!
This full-day workshop includes:
• THREE hands-on specialty printing workshops: Letterpress, Etching/Intaglio and Laser Cutting
• A tour of the sprawling AS220 grassroots community arts/education compound with AS220 Founder Bert Crenca.
Whether you've got experience with specialized printing or are newly curious, this workshop will give you plenty of opportunity for learning the ropes, renewing your passion, or refining your skills. With the pros at AS220 as our guides and instructors, we will all be inspired and gain valuable knowledge both time-tested and new printing techniques. To ensure the fullest experience possible and the most individual attention, we're offering only 18 spots. Register early as this event will fill up fast. 

The Workshops
Each attendee will be part of a smaller group that will receive focused, one-on-one guidance from instructors at each workshop. In no time at all, you'll be knuckles-deep in creating something truly original. You'll get to create your very own limited-editon (sets of 10) 11×17 poster, combining all 3 workshop techniques into one virtuoso composition. Or, if you don't like when your potatoes touch your peas, you can keep the techniques separated and create up to 3 sets of 10 posters. The choice is yours, so bring your great ideas, the spirit of collaboration, and your enthusiasm for designing on the fly.
All work will be printed on premium Mohawk paper to ensure even your simplest ideas will be sumptuous.
Letterpress Workshop
In recent years, there has been a rise of "craft" letterpress. Though this process requires a high level of craftsmanship – AS220 is adept at bringing you up to speed quickly. You'll get to select from a trove of movable type and set your handpicked type the old-fashioned way. Then, you'll head to the Vandercook press where you'll ink up and pull your own typographic design on sheets of thick, supple paper. In just a few hours, you'll hone your skills and watch your design come alive.
Etching & Intaglio Workshop
Try your hand at a printing technique from the golden ages and channel your inner Albrecht Drer. Select from through AS220's large inventory of "plates", ink the grooves and print on a gorgeous sheets of thick eggshell paper. There you have it, simple and serendipitous.
Laser Etching Workshop
Experiment with cutting paper the new-fashioned way. Bring a vector (illustrator eps) drawing and get ready to add an etched (also known as laser cut) component to your poster. Laser allows for very intricate cuts. Look up the work of Paul Krix based on patterns in nature and get inspired. A simple leaf can be incredible!
Tour
We chose AS220 for this workshop location because the facilities are extraordinary. We also chose them for the culture that they've developed around creative expression and learning. This cultural sensibility has expanded beyond the print shops themselves to the entire AS220 compound and to the vibrant creative neighborhood AS220 calls home. Follow AS220 Founder Bert Crenca on a guided journey through the facility and learn about the genesis of this culture and daydream about bringing some of that spirit home with us.
Lunch
Lunch will be on site at Foo(d), a casual café on the AS220 compound. Though we have included time for lunch into our schedule, the cost of your meal is not included in the registration fees.
—————————————————
Schedule
We will break into three workshop groups and proceed through the full program "round-robin" style, meeting up as a group at noon for a quick lunch and a tour of AS220. The workshop schedule will flow as follows:
Workshop A: 10 AM – Noon
Lunch/tour: Noon – 1:30 PM
Workshop B: 1:30 PM – 3:30 PM
Workshop C: 3:30 PM – 5:30 PM
Travel
We will be coordinating ride sharing from Hartford, New Haven and other areas, depending on location of registrants. In order to take advantage of this ride-sharing opportunity, we will be determining a departure location convenient to parking. Simply, meet us at these locations, park your own vehicle and join us for fun conversation all the way to RI.
Departure time from CT: this time will be determined at a later date, once attendees are registered and we can plot a course. Once the times and departure locations are set, we will have to adhere to the schedule to ensure we don't miss any of our committed time at AS220.
Departure time from RI: We recommend spending some time exploring the AS220 neighborhood. Therefore, we will leave return times will be consensus-based within each van-team.
—————————————————
Registration:
AS220 Full-day Workshop
131 Washington Street, Providence, Rhode Island
AIGA Members: $105
Non-members: $125
*Space is limited, register today! SIGN UP, EXPLORE & DO IT YOUR WAY